We are proud to present our latest project, a MultiPlayer Piano!  Currently on display at Music Center of Los Angeles's Dorothy Chandler Pavilion for Swan Lake Oct 9-12th, 2014. #LASwans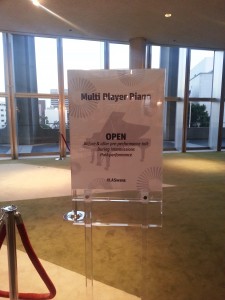 The player piano is controlled by the proximity of the visitors. If you move towards the left, it will play faster, to the right it will play slower. The more movement, the more more the piano will play.
If you happen to be at the Swan Lake this weekend, let me know what you think!
Special thanks to:
Ed Barguiarena – Music and game design
Monica Greene – Project consultant
The Music Center – All your support!
Installation concept and system design Kevin Jordan
Original music by Pyotr Ilyich Tchaikovsky,
Music content development by Ed Barguiarena
Music performed by Scott Hiltzik
The hardware used is a RaspberryPi connected to a Keyence Laser Scanner controlling a Yamaha Disklavier Player Piano. The computer system and connectors are mounted in a Pelican case with through connections for USB, MIDI In & Out, HDMI, Power, Ethernet.